CSO capacity builiding training was held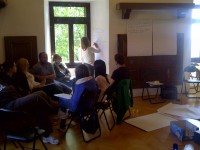 A three-day training for capacity building of several organizations from Central and Eastern Croatia and their activists and volunteers was held in Grožnjan, Istria.

Documenta is its collaborative partners and other organizations wanted the training to enable the transfer of knowledge in research activities and advocacy of public policies based on the results of research activities to promote and protect human rights, particularly the civilian casualties, and the improvement of democratic institutions and rule of law.

The training was attended by a total of 28 persons from six civil society organizations from Zagreb, Bjelovar, Pakrac, Osijek, Porec and Grožnjan.

Training is held within the project "Together for the rights of all victims - the empowerment of civil society organizations to explore the facts and advocating compensation" conducted in partnership with the Center Miramida, justice, the Centre for Peace and dolphins, and it is financially supported by the National Foundation for Civil society.

Our joint activities we want to increase public awareness of the importance of fact-finding and compensation of all civilian war victims through public events in areas where active partner organizations, participation in the campaign to compensate all victims of war and work together to develop policies aimed at compensation for all victims of war. We believe that the activities and results contribute to the development of human security, democratic society and the rule of law in the Republic of Croatia.