Suffering of civilians in Sisak – years of waiting for the acknowledgment of suffering and compensation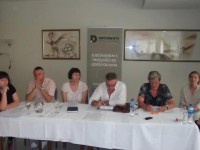 On Wednesday July 4th the public discussion on civilian war victims and right to reparation was held in Sisak. The debate was held at the Hotel Pannonia and was organized by Documenta - Centre for Dealing with the Past. The discussion was attended by civilian victims from Sisak, Petrinja and surrounding areas and representatives of associations of civilian victims, human rights organizations and lawyers.

After introductory words of Documenta's Director Vesna Teršelič, Kristina Belavić Benić, Head of the UNHCR office in Sisak presented work of this international organization and provided support to civilian victims, refugees, displaced persons and returnees. Emina Bužinkić and Eugen Jakovčić, Documenta's programme and media coordinator, presented the results of the civilian victims needs assesment and the media campaign consisting of 8 video stories symbolizing the suffering of civilian war victims. One of present victims was mother of young Ljubica Solar who has been struggling with state institutions more than a decade.

During the discussion, two mothers of killed children in Sisak, Vjera Solar and Đurđa Gmaz, have shared their life experiences. Historical perspective on compensation of victims was presented through lenses of historian and professor Hrvoje Klasić. Davorko Vidović, politician and previous minister of social welfare spoke about obligation of the state to ensure compensation and social rights as well as deminining. Milana Kreča, a lawyer and activist for human rights from the Civil Rights Project Sisak warned of a growing number of cases in which the damaged party is threatened by high trial costs while losing lawsuits for damage compensation. Documenta's legal expert Milena Calic Jelic presented UN resolution, Basic Principles on the Right to Remedy and Reparation by which all the victims have the right to effective, high quality and adequate compensation.